Levines create convening space for our region's nonprofits

Sandra and the late Leon Levine are among the leading philanthropists in our region. Together the couple lead the Leon Levine Foundation, which made significant contributions to many beloved institutions in our community.

It's only fitting, then, that the couple lent their name to FFTC's Levine Conference Center – which offers free meeting space to the area's nonprofit organizations. "Each of us is put here for a short time," Sandra said, "and any good we can do to benefit future generations is our responsibility."
As a businessman who founded the Family Dollar discount chain and grew it into a Fortune 400 company, Leon Levine dreamed of ways to give back to his community and share his growing wealth with those in need, so he established The Leon Levine Foundation in 1980.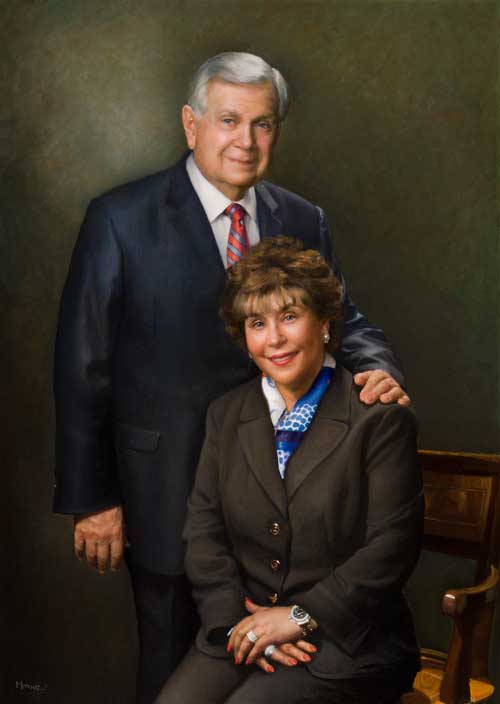 Growing up in the Jewish faith, Sandra was inspired by her parent's charitable example. Later, it was her husband Leon's personal gift to Duke University that especially piqued Sandra's interest in philanthropy. Over the years, Sandra has helped to put the couple's inimitable stamp on a variety of charitable endeavors.
The Leon Levine Foundation focuses on a number of areas, including medicine, education, the Jewish faith and human services. "One of my strongest feelings is that you need to help those who are trying to help themselves," Sandra said. Following this precept, the Leon Levine Foundation has provided generous support for medical institutions such as Levine Children's Hospital and the Levine Cancer Institute, both at Carolinas Medical Center; the Leon Levine Science Research Center at Duke University; and the Leon Levine Opportunity Center on the Goodwill Opportunity Campus.
The Levines have also supported higher learning, in some cases giving lead gifts that have created new facilities and programs that bear their name, including Central Piedmont Community College-Levine Campus; Leon Levine Foundation Endowment Scholarships at a number of universities, including UNC Charlotte; the Levine College of Health Sciences at Wingate University, Leon's alma mater; and the Levine Center for Wellness and Recreation at Queens University of Charlotte. The Levines' giving has also supported notable arts, religious and cultural institutions, including the Sandra and Leon Levine Jewish Community Center at Shalom Park, the Levine Museum of the New South and the Levine Center for the Arts.
A Richmond County native, Leon Levine was a supporter of his hometown, giving to projects that have helped revitalize downtown Rockingham, NC.
Despite their remarkable record of achievement, the Levines' focus is firmly on the future. "What I like is that we have the pleasure of seeing things happen now with the philanthropy that we provide," Sandra said, "and also the satisfaction of knowing that when we're no longer here our philanthropy will continue and great things will come from it."